There are times during the creation of a costume where my original design doesn't want to be made.  Instead, I am pulled in another direction.  Whenever this happens I don't fight against it.  I take a step back and let my mind open up to a new design idea.
This is where I am with Divine Opulence.  In the beginning, I wanted more gold fabric in the costume.  It was going to be almost genie-like with open side harem pants and a faux vest bra top.  As I gathered my materials together and began the creation process, it just didn't feel right. 
Here is where I started,  Divine Opulence in richly saturated hues of gold and blue.  Sew-on rhinestones, rhinestone trim, and a variety of round, faceted and bugle beads were gathered together for the medallions I'd planned to create.  I'd assembled them all in my mind and it seemed to fit.  As I studied all the materials together, though, there was something off about it.  I experimented with different design elements, draping of fabric and beading styles.  In the end, it just didn't jive for me.  So I took a step back and started over.
I focused on the one design element I knew would be in Divine Opulence – the Ankh.  Once I was satisfied with the Ankh medallions, I went back to my fabrics and decided the gold had to go.  After pairing the decorated mesh with a shimmery blue lycra, Divine Opulence began to click for me again.  No more genie-esque elements, so the harem pants and faux vest disappeared. Divine Opulence is evolving into a high fashion, sleekly sophisticated belly dance costume.
This is where I am now.  I've settled on the different designs for my medallions and am quite happy with the mix.  The center belt piece will be the large diamond shaped medallion.  I used clear ab and bronze square-shaped sew-on rhinestones for depth and contrast. The Ankh medallions are accented with the angular lines of the diamond medallions and the circular lines of the round medallions.  These elements also enhance the design on the decorated mesh.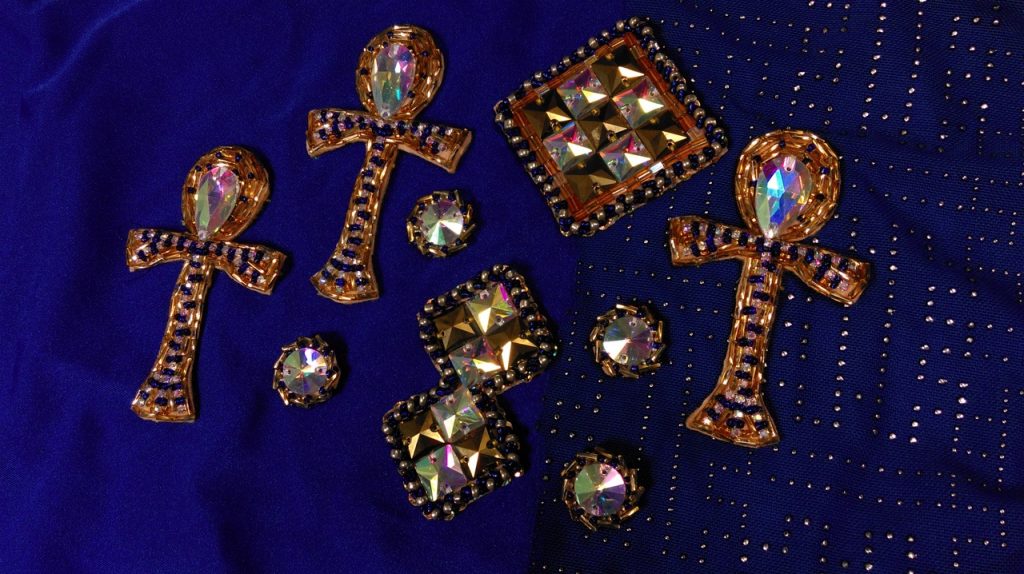 Next up is creating the belt for Divine Opulence.  The medallions will be accented with additional rhinestone trim and beading, and I've got an idea of what I want for fringe.  That may change, though, as the belt comes into fruition.  Inspiration may take me in another direction, after all!