The medallions are finished  🙂  Undeniably the most time-consuming creation process for my costumes from The Opulence Collection, it's an understatement to say that I am so happy that they're done!  I ended up with 5 Ankhs (measuring 4 inches tall), 1 large diamond, 3 double diamonds, 4 regular diamonds and 12 circle medallions.   All of them will decorate the bra and belt set of Divine Opulence, but I have a feeling that I'll be adding a collar before the creation process is finished (which means more medallions!).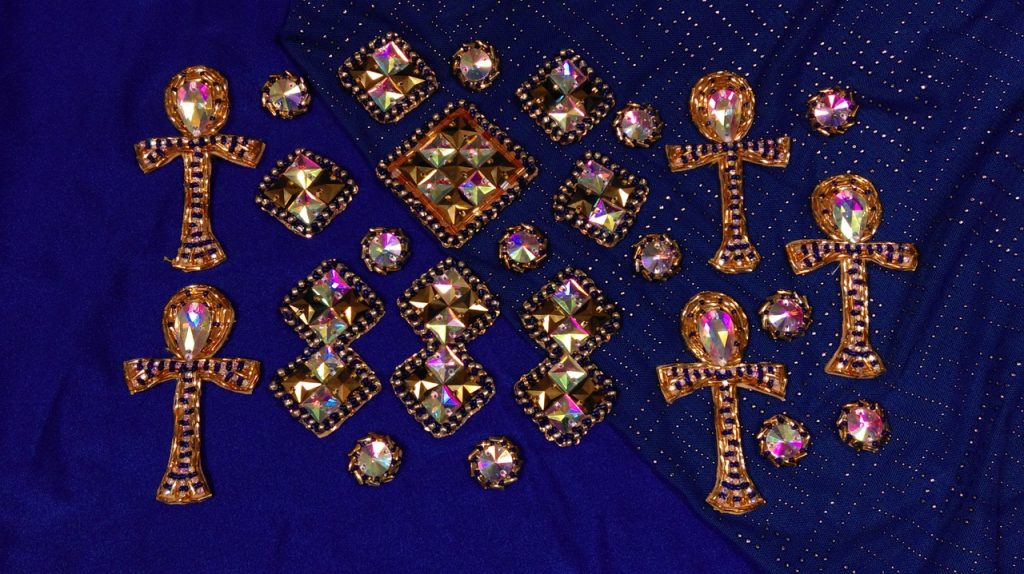 After toasting the medallions with a cuppa, I cut out the belt form.  It's a one-piece belt with the large diamond center medallion.  The design is very symmetrical, so I began laying down the medallions from center back as I had them envisioned in my head.  This is the result.
A double diamond medallion flanked by round medallions decorated the center back piece.  2 Ankhs followed alongside with 2 more round medallions.  I added rhinestone trim to accent the round medallions. Taking a step back, I studied the effect and thought to myself, "This doesn't work."  None of the medallions popped the  way I want them to.  The Ankhs were diminished in the current structure of the layout, and that alone required a design re-work.  I needed to change something around, so I decided to play with the rhinestone trim.
Changing the trim so that they flowed from the Ankhs and framed the double diamonds worked better.  I also moved the round medallions over towards the end of the rhinestone trim.  The Ankhs and double diamonds were now popping as their own individual design elements.  It was still not working for me, though; the rhinestone trim made me think of insect legs the way they flared out from the Ankhs, so I needed to fix that.  How could I do that without altering the pattern too much? 
It was quite simple, really.  I just connected the rhinestone trim at the bottom to be more of an open-heart shaped design. Away went the insect legs and the medallions still were statement pieces all on their own.  What a relief! I'd spent weeks making all the hand-beaded medallions and didn't want them to be muted because of the layout.  Divine Opulence is a celebration of ancient Egyptian mythos and the Ankhs were reborn (see what I just did there?).  🙂
Here is where I am now.  I've added small crystal ab sew-on rhinestones to fill in empty space in the design.  The belt will also be completely edged in beading.  The double diamonds flash with depth and the Ankhs reign supreme.  Knowing me, I'll most likely add more beading or small rhinestones as accents before I'm completely satisfied and able to move on to the next design element.  I can't help it; I love sparklies!