Custom Professional Belly Dance Costumes
Welcome to Designs by Dinah, where quality and design are paramount. All custom professional belly dance costumes offered on this site are personally created and guaranteed by me. I offer premium quality  belly dance costumes for all performance styles — Danse Orientale / Raqs Sharqi, Folklore (Saïdi, Sha'abi, etc), Drum Solo, Fusion, Dramatic Interpretation and Fantasy.
All materials used for my costume designs are chosen with care. From fabric selection and beading to rhinestone color and quality, I ensure that each custom belly dance costume I create compliments both you and your performance, enhancing your unique style with fluid movement and pizazz.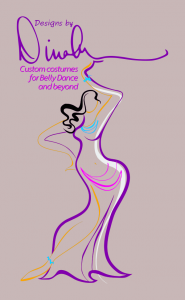 Belly Dance Costumes created for YOU
In addition to ready-made belly dance costumes available for immediate purchase, custom costumes and one-of-a-kind creations are also available. Let me collaborate with you to create a belly dance costume that perfectly fits your individual performance and style needs.
Belly Dance Costumes that move with YOU
My belly dance costumes are designed to showcase your performance. I use costume designs and fabric that move fluidly with you and compliment your dance. From functionality to maneuverability, I ensure that my belly dance costumes are created to be comfortable as well as stunning on and off the stage.
Dinah, I really really love your work! Many details, very meticulous work! Great stylist!
[Pharaonic Opulence] is even more beautiful in real life! Thank you soooo much! You do exquisite work! This costume is well made, and the design is flawless!
Your work is superb. Thank you for my beautiful costume.